Calling all tourism businesses in Inishowen – Help Go Visit Inishowen to help you in the year ahead
Are you operating a business serving the growing number of tourists coming to Inishowen?
If so, Go Visit Inishowen would like you to consider becoming a subscriber & supporter of their work. GVI exists to promote Inishowen as a tourism destination and to facilitate, steer and support opportunities for growth in the tourism sector. In recent times we are delighted to have been able to refurbish our busy tourist office in Buncrana and now have a new staff team in place. While staff costs are covered by An Pobal, we are classified as a CLG and are not Failte Ireland operated.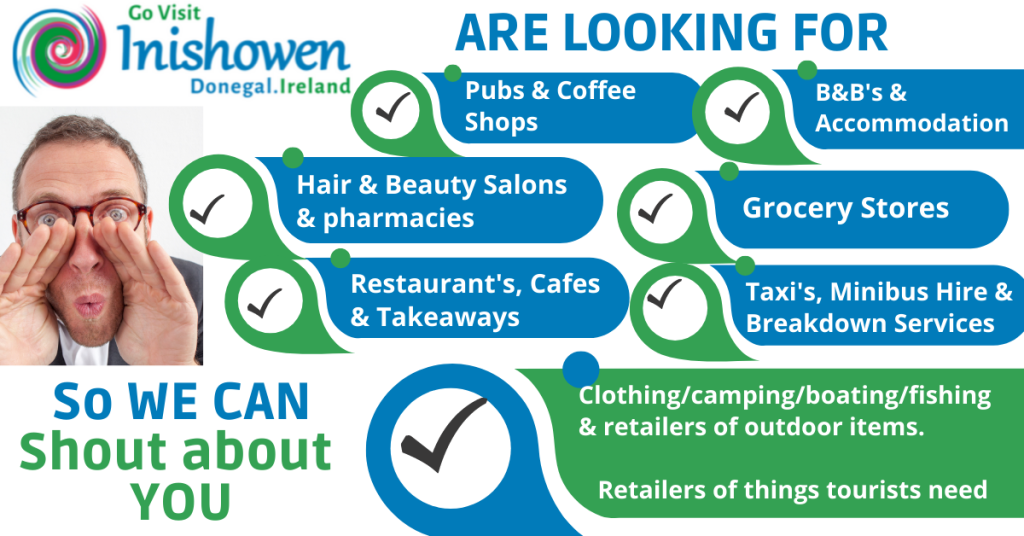 How Go Visit Inishowen can help your business
With a new staff team in place (Manager, Trade Liaison Officer & Events Producer & Digital Marketing Officer) we are now ready to put Inishowen on the map. We plan to showcase all the amazing things Inishowen has to offer and attract new & returning tourists to enjoy a holiday in Inishowen in the months and years ahead. We will do this in a number of ways;
Featuring every subscriber on our website (getting 1000+ visits per week currently).
We will be relentless on our social media channels (facebook, instagram & twitter) promoting individual businesses as well as area's with a cluster of businesses. In the past 28 days we reached over 70K people on Facebook & Instagram.
We are currently designing a new printed visitor guide for when tourists arrive and to distribute to other parts of the country to attract new people to the Inishowen Peninsula.
We are planning four new events per year (alongside the existing Inishowen walking festival which takes place annually in September) to attract visitors into Inishowen.
We will highlight your business and help you receive the growing number of government/community support available for tourism activities.
We will be very proactive in promoting events taking place right around the peninsula such as festivals, events in pubs, hotels and tourism activities etc in our whats on guide online. Events can be sent to us directly and featured on our website & google page.
Finally, we offer the many tourists arriving at the Go Visit Inishowen Tourism Office a personalised guidance service to the various trades in Inishowen (based on their needs & interests). The individualised recommendation is highly influential, especially for first-time visitors seeking the local expertise we possess.
What types of business would we like to promote?
We would love to feature & promote businesses all over Inishowen providing services or activities for visitors to Inishowen.Hotels, Bed & Breakfasts, glamping, motorhome parking, restaurants, pubs, coffee shops, takeaways & cafes, community services, taxi & minibus hire, shops (pharmacies/clothing/camping gear/boating/fishing gear etc) emergency breakdown services, hair & beauty salons, outdoor & indoor tourism destinations (things tourists & locals alike will seek out to do to have fun and create memorable experiences in Inishowen).
How do i subscribe?
First of all a massive thanks to all the businesses who have taken a renewed subscription for the year ahead already. We really appreciate your support!
Take a look at our packages and decide what best suits you. Click the link below (download) or read on.
Subscription options 2023-24 for Trade
To have a printed Visitor Guide ready for August we will close for submissions on Wednesday 19th July 2023.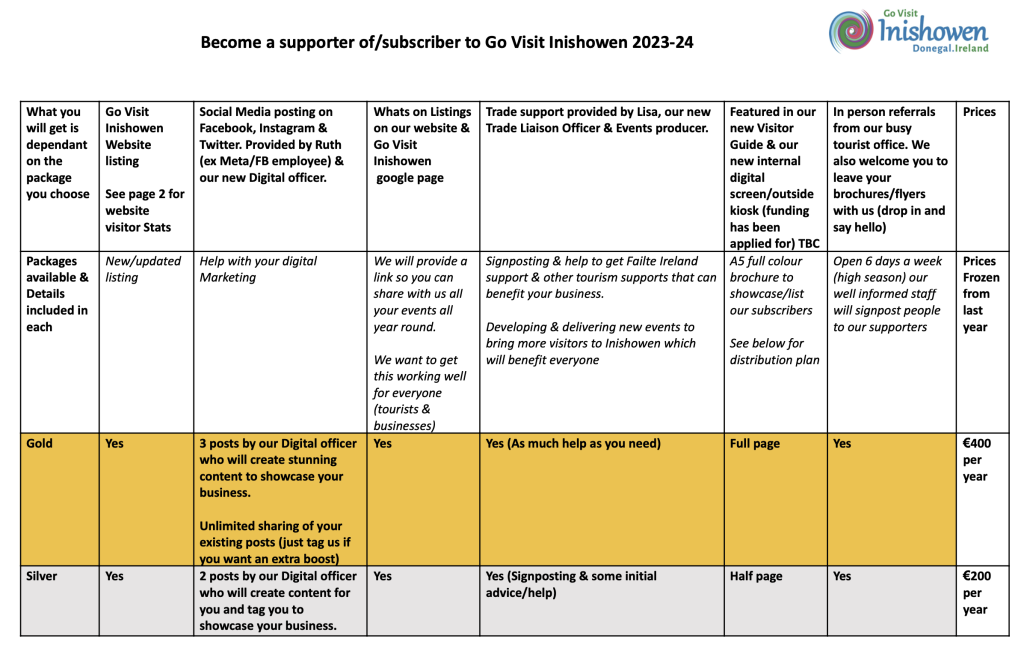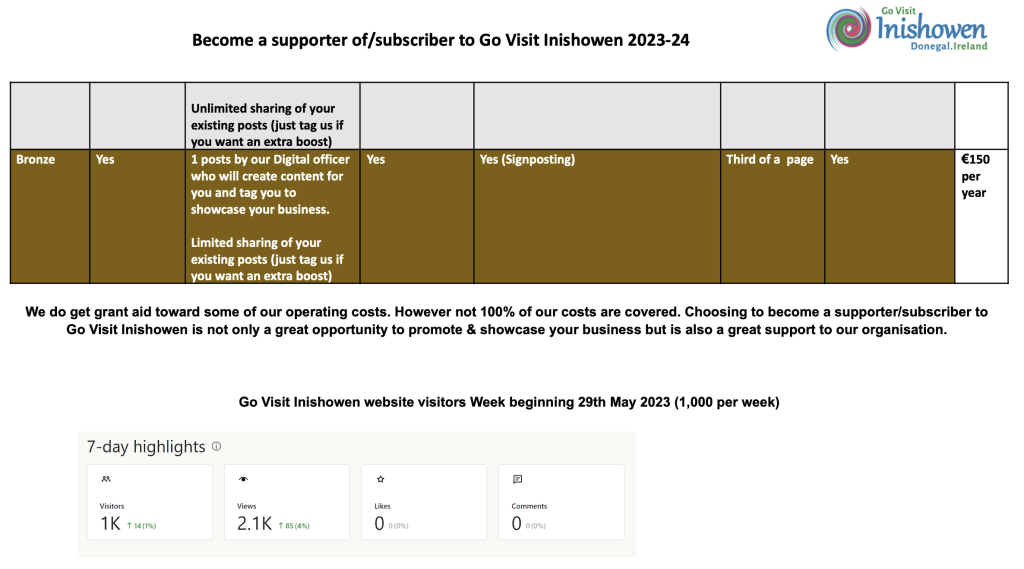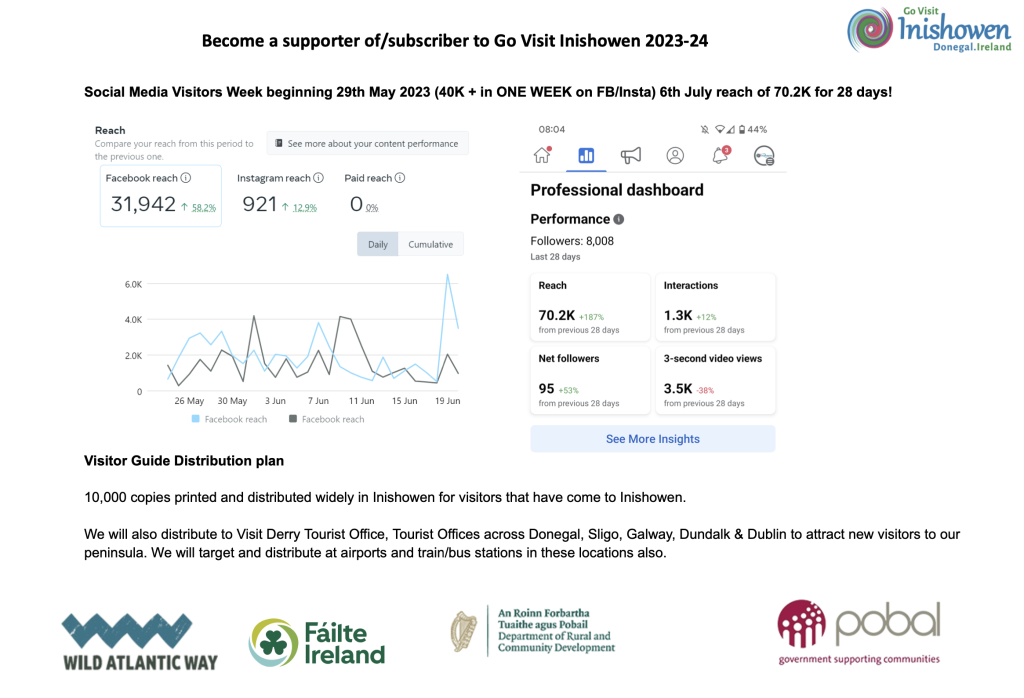 Chose the one that suits your needs.
You are an existing business and want to renew
If you are renewing from last year and don't want to change your advert for our printed visitor guide you can simply pay online now by clicking on the link that suits you. We are encouraging existing subscribers to do this and keep the same advert unless it requires major changes.
The links to confirm your renewal are as follows:
You are a new business and are subscribing to Go Visit Inishowen for the first time
We will need some details about your business so that we can showcase you, your team and what you do in the best way possible. Have some photos and other 'about us' details at the ready. Then fill in this short (5 to ten minutes of your time) online form Provide my details to become a supporter and subscriber to Go Visit Inishowen and at then end of the form make your payment.
I would prefer to pay via online banking transfer – You can do so using the details below
Account Name: Explore Inishowen Company Limited by Guarantee Bank of Ireland, Main Street, Buncrana, Co Donegal
Sort Code: 90-47-55
Account no: 75112170
BIC: BOFIIE2D IBAN: IE50 BOFI 9047 5575 1121 70
Once we receive payment we will issue an invoice & receipt.
If you have any questions please don't hesitate to get in touch on 074 93 63451
Thank you!
The Go Visit Inishowen Team