Muff is a small quirky little village on the border of Donegal and Derry, with a vibrant community scene. Muff is the starting (or end) point of the Wild Atlantic Way and the Inishowen 100 and is our featured location today.
Muff is in the parish of Iskaheen or in Gaelic, Uisce Chaoin, "pure waters" – because of a holy well near an ancient church.
 With adventure/outdoor and boutique clothes shops, lively pubs, excellent restaurants, a local craft beer brewery and an ice-cream parlour it's hard to believe they have crammed so much into this wee village. 
Must do: Tank & Skinnys.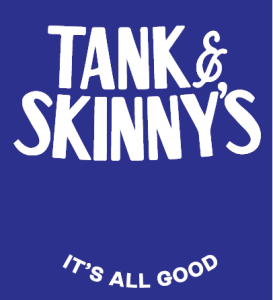 This fun restaurant is the cherry on top of the quirky village of Muff. With a flavoursome menu and awesome coffee, the only thing that beats it is the friendly staff! If you're near Muff or passing through it is most definitely worth stopping off. My favourite is the "Hungers Mother" like a breakfast sandwich with a facelift… Just amazing!
Must see: Lisnagra Woods. 
Lovely for a walkthrough or even to pack a picnic and sit for an hour. Lisnagra Woods is a great place to get away from it all, it is only 20 minutes from Derry city centre, but it feels like a million miles away from the hustle and bustle. Local wildlife can be witnessed including the red squirrels that call the woods home. Like all forests pay attention to the weather, lots of rain = muddy paths, wear appropriate clothing.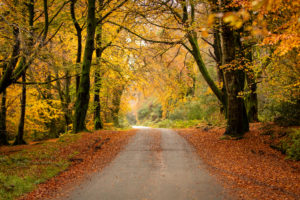 Community: MuffCommunityDevelopment
Doing great things in Muff this community group have helped improve the village immensely. Check out their Facebook page to see what is happening in Muff as they feature regular community events.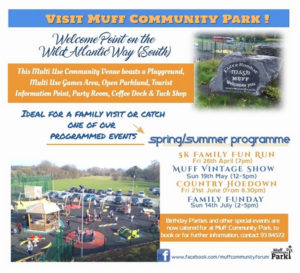 This poem by Eithne Anderson was taken from a press cutting found in a copy of The Family History Of Hart Of Donegal by Henry Travers Hart in 1907.
THE WOODS OF LISNAGRA
High on the bleak moorland of Lisnagra
There is a shady wood of swaying trees
That creak and groan when bowed and tempest tossed.
A sandy track emerges from the wood
Winding o'er the moor of Lisnagra
To meet the mountain boulders strewn and wild
Where white marsh flowers bow before the gale.
And overhead the lonely curlew flies
Uttering screams that pierce the solitude
And echo far o'er mountain, lake and fall.
Eithne Anderson